Welcome to the Home Page
6th Alpaca-Show East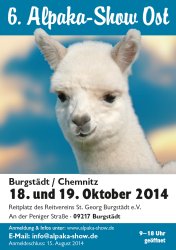 Information from www.alpaka-show.de or info@alpakas-zucht.de
6. Alpakashow East
October 2014
of the Alpaca Stud Farm on Czorneboh (AAC) in Meschwitz near Bautzen!
Are you following in the footsteps of the Incas, searching for the jewels of the Andes – for the teeny, endearing camels of the Andes – for the alpacas? Look no further, for you have found them!
These adorable, tiny four-legged creatures with their huge sloe eyes will weave their magic charm on you. It will be a difficult choice, for our top quality, beautiful animals from Chilean and Peruvian bloodlines all come at cost-effective prices. We also offer an exclusive stud service for your alpaca females.
Our alpaca grazing meadows around the historic farm lie at the foot of the Czorneboh, in an idyllic landscape south of Bautzen, in scenic Oberlausitz / Saxony. We are only too happy to advise on matters regarding husbandry, breeding and care of alpacas. Come and visit us! We will be delighted to welcome you.
AAC - Alpakahof on Czorneboh
Jörg Hübner